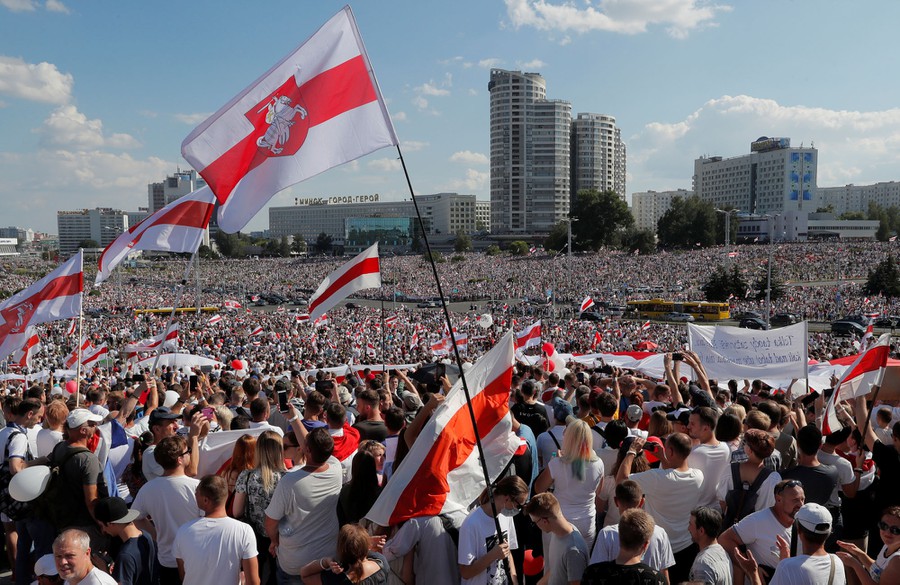 Protests continue in Belarus as the leader of the opposition flees the country amid a crackdown on protests questioning the legitimacy of the election
Mass protests broke out following the recent election in Belarus, as long-time leader Alexander Lukashenko was reported to have won by a landslide (80.23%), according to official polls. Leading up to the election, it seemed like the president was having his most difficult election yet in his 26 years of reign, as demonstrations have been occurring in several towns across the country, with its biggest one just last month counting 63,000 in the capital Minsk. As official results came in, local media and independent groups have both noted discrepancies regarding the vote. According to these sources, voter turnout has been greatly exaggerated  and they say that the election was marred with widespread ballot stuffing and falsifications.
The main opposition candidate Svetlana Tikhanovskaya has now fled to Lithuania after having to go into hiding on the evening of the presidential vote for safety reasons. Having received numerous threats leading up to the election, her husband and children had previously gone abroad fearing for their safety. As security forces mounted sweeping crackdowns on protests, detaining thousands and injuring many, while having 9 people from her campaign team arrested, she saw no choice but to leave her country.
Mr. Lukashenko has long drawn international criticism for suppressing dissent and using the country's secret police to detain and harass opposition activists, earning the nickname "Europe's last dictator" for himself. Russian President Vladimir Putin and Chinese President Xi Jinping have already congratulated Lukashenko, while many western nations condemned the election. Today, the Senate of the Czech Republic voted in favour of a resolution that condemns the police crackdown on Belarusian protesters as "violent and evidently disproportionate".
The Prague Society stands with the citizens of Belarus who wish for open and fair elections, and we are engaging with other governments to demand an end to the use of threats and violence against protesters and opposition. We continue to work to in support of a future election process that is monitored by international bodies.