Honoring past recipients of Hanno R. Ellenbogen Award that have past away
The Hanno R. Ellenbogen Award has been awarded annually since 2000 - with the only exception of 2012 when no recipient was named. The award honors dedication to and achievment in public service, particularly in Central and Eastern Europe.
This page commemorates former recipients of the award that have passed away. Despite their passing their dedication, achievements and message will continue to be honored. In memoriam of: Miloš Forman, Václav Havel, King Michael of Romania, Desmond Mullan, Vera Čáslavská, Iva Drápalová and Jiří Dienstbier
His Majesty King Michael I of Romania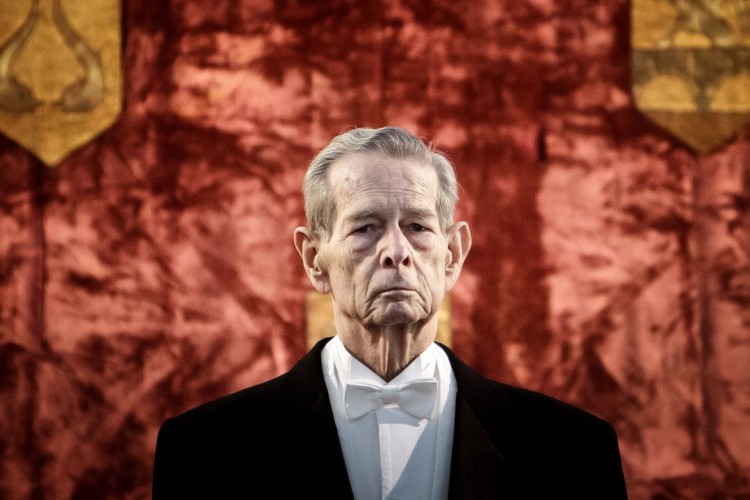 His Majesty King Michael I of Romania was the recipient of the 6th Hanno R. Ellenbogen award. Forced by the communist to leave his own country in 1947, he returned in 1992 and was greeted by millions of people, only to be banished again until 1996. King Michael donated the financial part of the award to medical Bioengineering student Petrisor Ostafie. King Michael of Romania died on the 5th of December 2017 aged 96.
Tony Fitzjohn (1945-2022)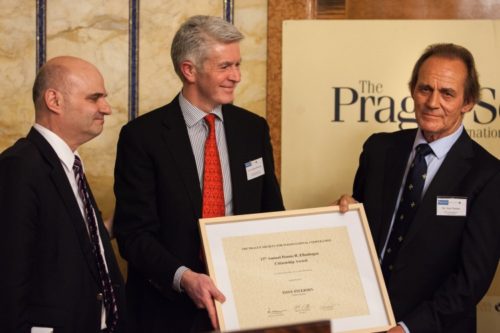 Tony Fitzjohn Obituary
Madeline Albright (1937-2022)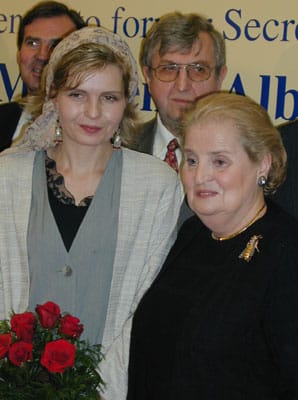 "Madeleine Albright was a superb stateswoman. A role model. Tough. Smart. And didn't suffer fools gladly. We became close over the years. And also had our conflicts. She was the 2nd recipient in 2001 of the Hanno R. Ellenbogen Citizenship Award jointly presented by the Prague Society and Global Panel Foundation. The secondary recipient was War Reporter Petra Procházková – to whom she gave the financial portion ($10K) of the Award. Madeleine was above all – a great US Patriot – someone who took risks and spoke her mind. "
Prof. Marc S. Ellenbogen
(Born Marie Jana Korbelová in 1937 in Prague, Madeleine Albright spent her life serving the common good. In 1993, she became the American ambassador to the United Nations and three years later she was appointed Secretary of State, becoming the first woman to hold the position and the highest-ranking woman in the history of the US government at that time.)
Honorary President of the Prague Society
FW De Klerk (1936-2021)
It is with immense sadness and a heavy heart that we announce the passing of a great man, and a prominent friend of the Prague Society. FW de Klerk was the Honorary President of the Prague Society for International Cooperation, a mentor and friend of Prof. Marc S Ellenbogen.On behalf of everyone at the Society, we express gratitude and wholeheartedly send our condolences to the family of President de Klerk.
"FW de Klerk and I met in an outer passage of Prague Castle in the late 90's. We were standing next to each other having a cigarette, but not knowing who we were. We were on a break at the first Forum 2000. "Do you by chance know Prof. Ellenbogen and the Prague Society?" he asked me. "Yes I do," I answered. "I and Elita (his wife) am invited to dinner by him," he said. "I know, I am him", I said. He looked at me, sized me up and said, "I thought you were older." I grinned, and said, "I thought you were younger." We laughed and laughed. And so began a 20 year mentorship, friendship, and his becoming Honorary Chair of The Prague Society for International Cooperation. FW was a man of great faith. Of great passion. Of great insight. He saw things others did not. Believed in a future others objected too. And took the steps to make South Africa a democracy. A Lion in Winter has passed. His spirit will live on.
Marc S. Ellenbogen, President, The Prague Society; Chair, The Global Panel Foundation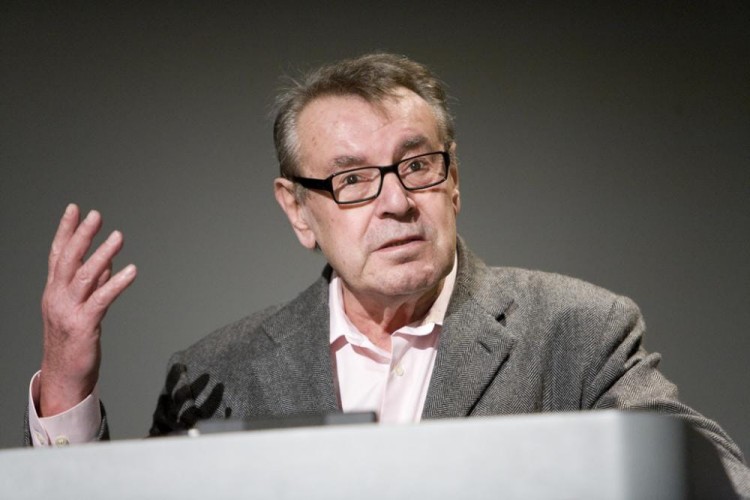 Miloš Forman, a czech film director who was the recipient of the 5th Hanno R. Ellenbogen award.  After being banned in his home country for the controversial film The Firemen's ball (1967), Forman settled in the United States and gained worldwide recognition with films like: One Flew Over the Cuckoo's Nest  (1975) and Amadeus (1984). Forman used the financial part of the award to provide scholarships to three students at the Film Academy of Miroslav Ondříček in Písek. Miloš Forman died on the 13th of April 2018 aged 86.
Iva Drápalová (1925-2016)
Iva Drápalová was an Associated Press correspondent in Prague between 1968 and 1988 and the recipient of the 14th Hanno R. Ellenbogen award. Working as a journalist, a translator at the Velvet Revolution press conferences and as a consultant for the Los Angeles Times she helped keep Czechoslovakia relevant in the Western press. Iva Drápalová died in 2016 aged 91.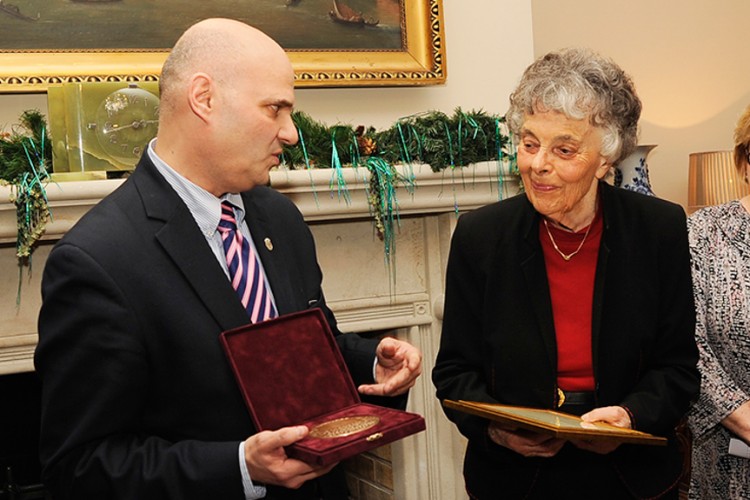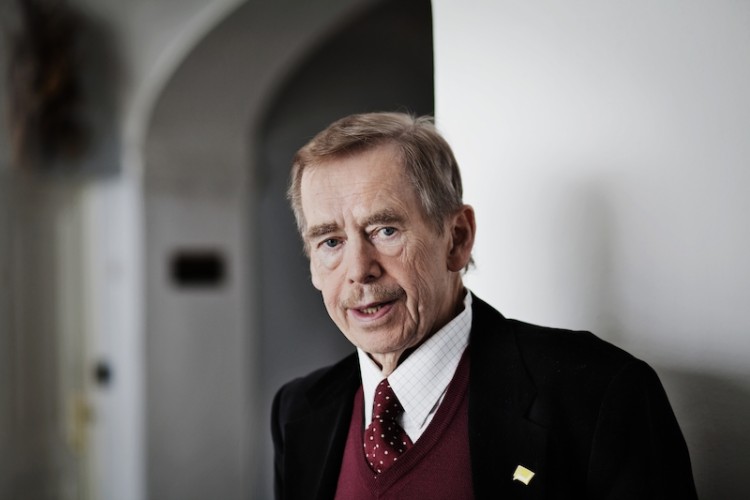 Václav Havel was a Czech writer and dissident who served as the last president of Czechoslovakia until its dissolution in 1992 and then as the first president of the Czech Republic, he was awarded the 3ed Hanno R. Ellenbogen award. Havel donated the financial part of the award to Andrej Dynko, the editor-in-chief of the independent Belarusian newspaper Nasha Niva. Václav Havel died on the 18th December 2011 aged 75.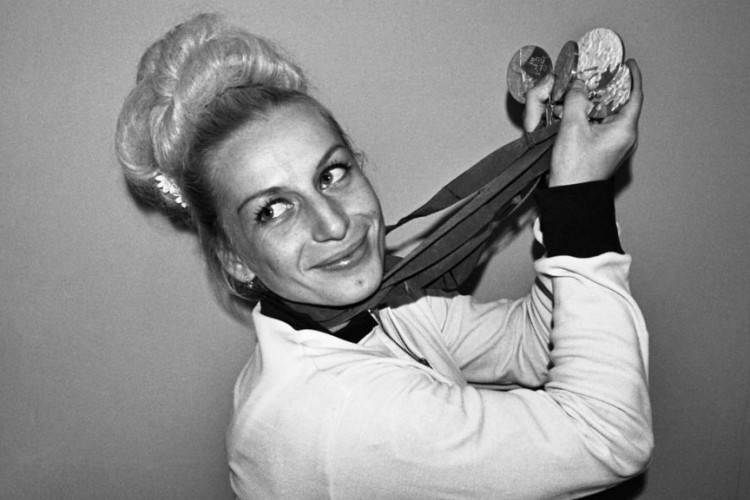 Vera Čáslavská is the most decorated Czech gymnast in history and is one of only two female gymnasts, along with Soviet Larisa Latynina, to win the all-around gold medals at two consecutive Olympics.
After the fall of communism in 1989. Vaclav Havel appointed her as adviser on sports and social matters and Honorary President of the Czech-Japan Association
Among her many distinctions – Čáslavská received numerous accolades for her contributions to the sport of gymnastics. In addition to the Olympic Order, she was awarded a Pierre de Coubertin International Fair Play Trophy by UNESCO 1989 In 1995, she was honored with the Czech Republic's Medal of Merit. She was inducted into the International Women's Sports Hall of Fame in 1991and the International Gymnastics Hall of Fame in 1998. In 2010, she was awarded the Order of the Rising Sun, 3rd class. She was also presented a 17th-century katana and a ceremonial kimono from the Japanese emperor.
In 2014, she was the joint recipient (with AP journalist Iva Drapolova) of the Hanno R. Ellenbogen Citizenship Award, awarded annually by the Prague Society for International Cooperation and Global Panel Foundation, for outstanding civic courage.
Vera Caslvaska will always be considered one of the best gymnastics, not just in her home country of Czech Republic but across the world.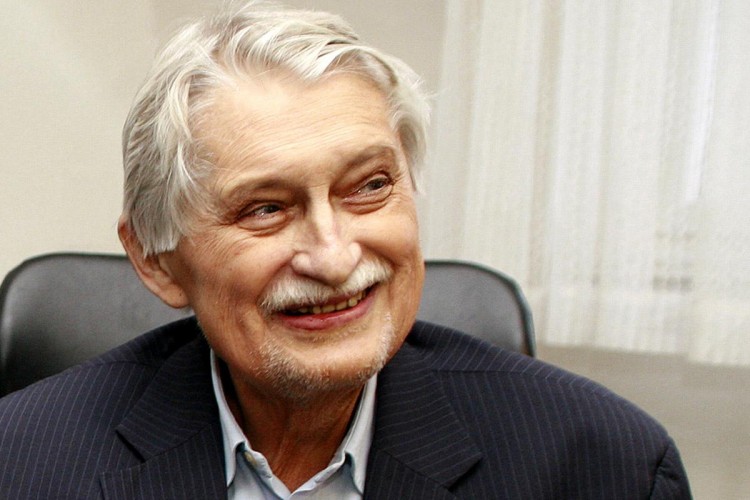 As one of Czechoslovakia's most respected foreign correspondents, Jiří Dienstbier lost his job after the end of Prague Spring and had menial jobs for the following two decades. During this time he became a signatory of Charta 77, helped to restart Lidové Noviny, one of the country's major newspapers. Later he reemerged with the Velvet Revolution, becoming the first Foreign Minister of post-Communist Czechoslovakia in 1989.
Dienstbier became a hero to millions when, together with then German Foreign Minister Hans-Dietrich Genscher and Austrian Foreign Minister Alois Mock, he cut the "iron curtain." The images spread across the world.
As a politician he played a pre-eminent role in shaping post-Communist foreign policy in a democratic Czechoslovakia between 1989 and 1993 and from Central Europe to Asia to the Middle East. When the Czech Republic and Slovakia separated as states, he played a leading role as a commentator and thoughtful rebel. Finally, he entered politics again in the 21st century as a Senator and Chair of the Senate Foreign Relations Committee.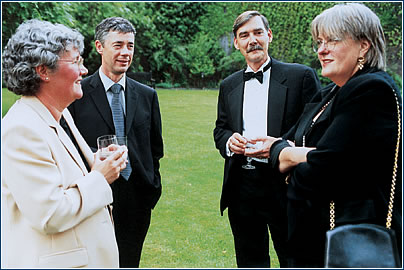 Desmond Mullan, managing director of Volvo Auto Czech 2000-2006,  was one of the Prague Society's staunchest supporters and a remarkable individual who contributed greatly to the world of business, education (International School in Prague), religion (congregation of the Roman Catholic Church of St Thomas in Mala Strana), civil society and the arts in the Czech Republic. His sudden passing in a tragic accident touched the Society and beyond.